Patent Maintenance Fees in China
In the previous article, we share official fees of Chinese patent applications. When a Chinese patent application is in the pending stage, no maintenance fees or annual fees are required. While if a Chinese patent is granted, it should be kept in force by paying renewal fees annually.
Counted from the filing date, the duration of an invention patent is 20 years, the duration of a utility model patent is 10 years, and the duration of a design patent is 15 years. For the above three types of patents, the maintenance fees should be paid yearly until the patent expires.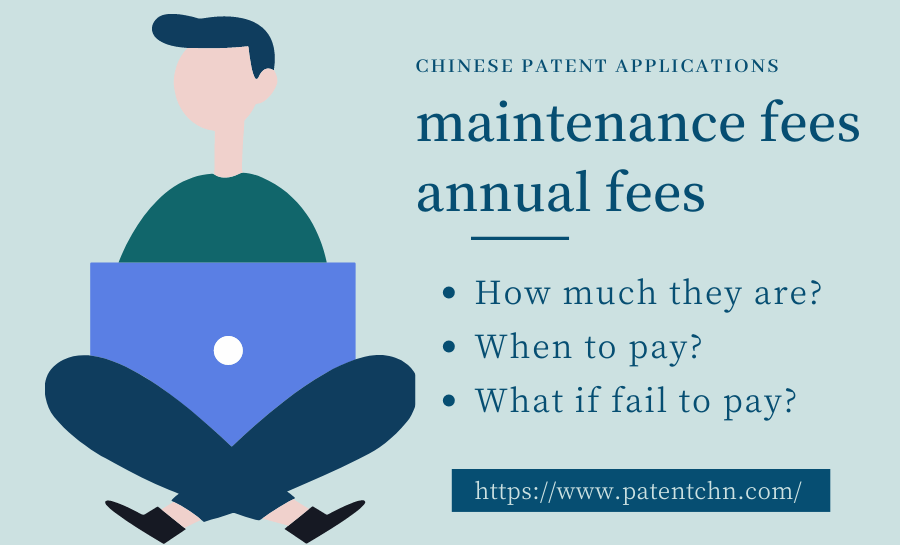 Time to pay the maintenance fees
The first annuity of a patent should be paid within two months from the date of receipt of the Notice of Allowance from the CNIPA. The due date for all subsequent renewal fees will fall on the anniversary of the filing date.

For example, if the filing date of a patent is 2020/9/01, and the grant date of the patent is 2022/08/26, you should pay the first annuity (also known as the registration fee) within two months, i.e., before 2022/10/26. Afterwards, the following annuity will be due on 2023/9/1 (from the anniversary of the filing date).
Grace Period and Restoration of Patent Right
If the applicant fails to pay the annuity before the due date, there is a grace period of six months to effect this payment. The extension of one month will incur no surcharge. Afterwards, the amount of the surcharge shall be, for each month of late payment, 5% of the whole amount of the annual fee of the year within which the annual fee is due to be paid. The maximum possible surcharge is 25% of the annual maintenance fee amount. When the fee is not paid during the grace period, the patent will be invalidated.
And if the applicant still fails to pay the annuity during the grace period, he/she has one last chance to restore the patent right. The term for the restoration of an invalidated patent right in China is two months from the receipt of the Notification of Termination of Patent Right. Under certain conditions (force majeure) this two months period may be extended by up to two months. A request for restoration stipulating the reasons of non-payment must be filed alongside the payment of the annual fee, surcharge and restoration fee. The fee for requesting the restoration of patent right is 1000 CNY.
1. Invention
| | |
| --- | --- |
| Year | Amount (CNY) |
| 1-3 Years (Each Year) | 900 |
| 4-6 Years (Each Year) | 1200 |
| 7-9 Years (Each Year) | 2000 |
| 10-12 Years (Each Year) | 4000 |
| 13-15 Years (Each Year) | 6000 |
| 16-20 Years (Each Year) | 8000 |
2. Utility Model
| | |
| --- | --- |
| Year | Amount (CNY) |
| 1-3 Years (Each Year) | 600 |
| 4-5 Years (Each Year) | 900 |
| 6-8 Years (Each Year) | 1200 |
| 9-10 Years (Each Year) | 2000 |
3. Design
| | |
| --- | --- |
| Year | Amount (CNY) |
| 1-3 Years (Each Year) | 600 |
| 4-5 Years (Each Year) | 900 |
| 6-8 Years (Each Year) | 1200 |
| 9-10 Years (Each Year) | 2000 |
| 11-15 Years (Each Year) | 3000 |