How to Expedite Prosecution of Invention Patents in China
The examination prosecution of invention patents in China generally takes two years, and the CNIPA has established procedures under which the examination of invention patents may be accelerated. There are mainly two ways to expedite prosecution of invention patents in China: one is Patent Prosecution Highway (PPH) and the other is Prioritized Examination, both of which are free of official fees.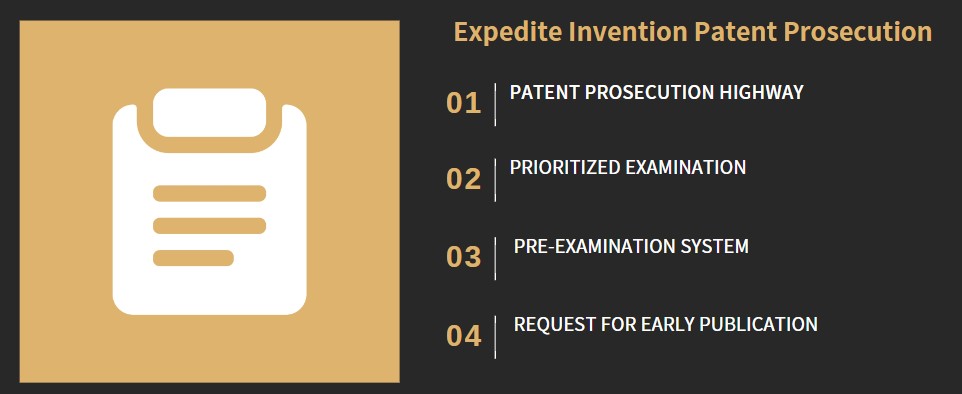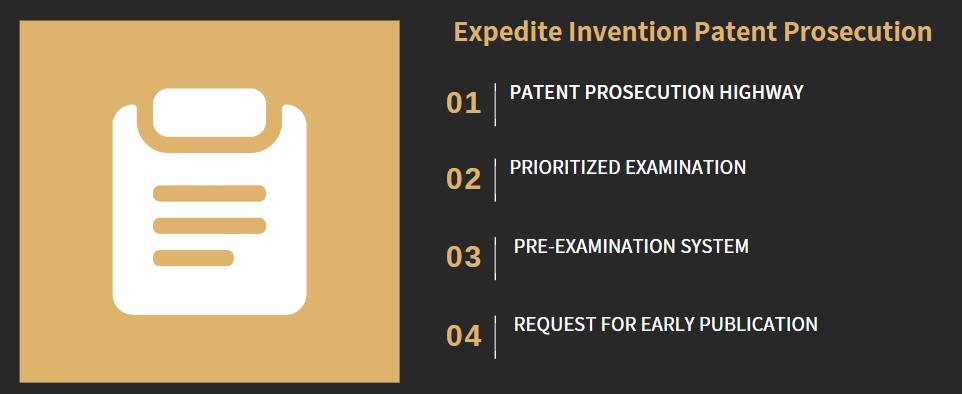 Patent Prosecution Highway (PPH)
PPH is a framework in which an application whose claims have been determined to be patentable in the Office of First Filing (OFF) is eligible to go through an accelerated examination in the Office of Second Filing (OSF) with a simple procedure upon applicant's request.
China is party to PPH agreements with many countries including the United States. Simply put, if you file a US application first, and receive a Notice of Allowance or an Office Action indicating one or more allowable claim(s), you may use it to expedite the examination procedure of its counterpart Chinese application.
How fast?
If a request for PPH is granted, you may receive the first Office Action within 2 months, several months earlier than ordinary applications.
When can you file the PPH request?
The application has entered the phase of substantive examination, but the CNIPA has not issue Office Actions. It is recommended that you file PPH request when file Request for Substantive Examination.
What are the requirements for PPH?
1) The Chinese application have a counterpart application in other participating countries.
2) At least one claim in the corresponding application indicated to be patentable.
3) Claims in the Chinese application must sufficiently correspond to an allowed claim in the corresponding application.
Both Paris-PPH and PCT-PPH are applicable for Chinese patent applications. That is to say, either you file a US application and receive favorable results, or you file a PCT application in the US and receive positive examination reports, in both cases, you can file a PPH request for its corresponding Chinese application.
1) PPH request form;
2) Office actions from OFF and the translations;
3) Allowable claims and the translations;
4) Prior art from the priority application;
5) A table showing correspondence between the pending Chinese claims and the allowed claims of the priority application.
The materials can be prepared by your Chinese counsel. Just follow their instructions.
Prioritized Examination
Similar to certain acceleration provisions before the USPTO, in some situations it is possible to expedite prosecution of a Chinese patent application based on real-world developments. For example, if a particular invention is directed to certain technologies, or is actively being infringed, or is of particular national or public interest, that patent application can be examined on a fast track.
How fast?
For invention patents, if the Request for Prioritized Patent Examination is accepted, the Chinese Patent Office will examine and issue a first Office Action within 45 days, with examination being completed within one year of the request.
When can you file the Prioritized Examination Request?
For invention application, you may file a request for Prioritized Examination after the application has entered the stage of substantive examination, before or after the first Office Action is issued.
What are the requirements for Prioritized Examination?
Patent applications are entitled to Prioritized Examination if they:
1) Involve national key development industries such as energy conservation and environmental protection, new generation information technology, biology, high-end equipment manufacturing, new energy, new materials, new energy vehicles, and smart manufacturing;
2) Involve industries encouraged by the provincial and district-level municipal governments;
3) Involve the Internet, big data, cloud computing and other fields and the technology or product obsolescence is fast;
4) The patent applicant has made preparations for implementation or has began implementation, or there is evidence that others are implementing their inventions;
5) The patent application was first filed in China and then filed in a foreign country; or
6) Of great significance to national interests or public interests need to be reviewed first
The requirements are applicable for all patent applications in China. However, the results may be affected by some local policies and the situation undergoes constant change. Therefore, it is suggested to consult local counsel when it comes to decide whether and how to apply for prioritized examination.
Materials needed for Prioritized Examination request
1) Priority exam request;
2) Prior art;
3) Proof of meeting the requirements; and
4) Power of attorney
Please note that for invention applications under Prioritized Examination, the Office Action should be responded within 2 months. Besides, the applicant is not entitled to a 15-day grace period on postal delivery which it is otherwise entitled for normal examination. Further, the applicant is not entitled to extensions if the applicant wants to maintain prioritized examination.
Other Considerations
In addition to PPH and Prioritized Examination, the Pre-examination System may also be used for accelerating prosecution procedure. However, the Pre-examination system has strict rules regarding the registration place of the company. Therefore, this system is mainly applicable for local companies.
Request for early publication
According to Article 34 of Chinese Patent Law, an applicant may request CNIPA to publish a patent application earlier than 18 months from its filing date (or earliest priority date when priority is claimed).
Under patent examination practice in China, patent applications will normally be published within 4-6 months after the applicant files a request for early publication. If the applicant requests early publication and has applied for substantive examination by the time the application publishes, the application will enter the substantive examination phase immediately after publication, thereby shortening the examination period and facilitating the grant of patent rights.
Conclusion
Depending on the facts of your given situations, options exist for expediting a patent application before the CNIPA. Should you find yourself in need of a fast resolution to your Chinese application, please seek help from your Chinese counsel and they would recommend suitable methods for you.